Yunnan (China)
Yunnan at a glance
Area: 394000 sq.km.
Capital: Kunming
Population: Approximately 41 millions in 2001
Language: Mandarin. A local dialect is also spoken, not very much understood by outsiders. Very little English is understood outside large hotels. Religion: Buddhism, Taoism, Islam and Christianity.
Climate: Varies widely according to latitude and elevation, from subtropical in the south, to high tundra in northern areas.
Local Time: GMT +8
Currency: Chinese Renminbi (RMB) is the medium of exchange. The basic unit of RMB is yuan, in denominations of 100, 50, 10, 5, 2 and 1. The yuan is divided into 10 jiao, which is further divided into 10 fen.
Credit cards: Accepted in large hotels only.
Travellers cheques: Travellers cheques and currencies may be exchanged into Yuan in major banks and hotels only
Electricity: 220V, 50 Hz
Nightlife: There is no recognised nightlife suitable for tourists.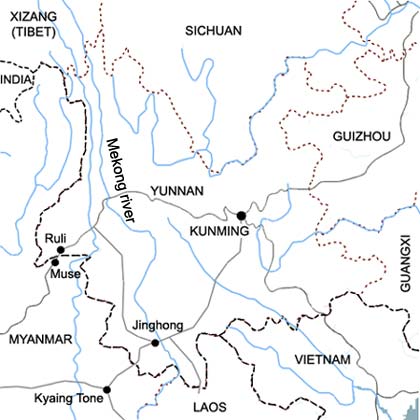 Travel tips to China

Visas
Visas are required for all foreigners entering mainland China. Visas are not required, however, for most of the western nationals visiting Hong Kong and Macau.

Health risks
Rabies, biharzia, dengue fever, malaria and cholera are all present, especially in rural areas. Immunization against cholera, Diptheria and Tetanus, hepatitis A and B, Japanese B Encephalitis, polio, rabies and typhoid is considered essential.

When to go to China
Spring (March - April) and Autumn (September - October) are the best times to visit China. However since Chna is a large country the situations are very much different from place to place. Major public holidays especially Lunar new year (usually in February) should be avoided due to extremely heavy domestic traffic.

Money matters
Mainland China uses the Renminbi Yuan (RMBY or CNY). Hong Kong uses the Hong Kong Dollar (HK$). Exchange money only at authorized facilities (such as banks, hotel desks, and "Friendship Stores"). Most large shops, restaurants, and hotels in big cities accept VISA, MasterCard, and American Express, but it is important to check first, especially in smaller towns and more remote areas. Many businesses who accept credit cards add a surcharge to pay bank processing fees.

Languages
Mandarin is the official language of China. Cantonese and English are widely spoken in Hong Kong. All Chinese languages and dialects are "tonal." Each syllable takes on a different meaning, depending on the pitch and inflection. For example, in Mandarin the syllable "ma" can mean "mother" or "horse," or a number of other meanings. Try and speak the language and it will be appreciated. A friendly "Ni Hao", (hello, how are you) can produce a friendly encounter with your Chinese hosts.

Communications
China use GMT + 8 hours. Making it easy on the traveler, China has dispensed with time zones entirely, despite her size.

In large cities fax machines and computers with Internet access are available at hotels and from vendors in postal shops. Most hotels have such basic facilities. In remote areas, even telephones can be difficult to locate. However, access to Internet is available at many places including small towns.

Food and drink
Avoid potentially contaminated food such as unwashed vegetables. In the remote areas, do not drink (or brush your teeth with) the tap water or accept ice drinks unless you are certain that it has been boiled or filtered. When possible, drink water or other beverages directly from bottled containers.

Major places of interest

Beijing: Great Wall, Forbidden City, Tiananmen Square, Summer Palace.
Shanghai: The Bund, Frenchtown, and the stunning Shanghai Museum a must. Also, the Pudong area and skyline to get a glimpse of China's phenomenal economic growth.
Xian: The Terra-cotta soldiers.
Guilin: Perhaps the most picturesque area of China; a karst basin surrounded by beautiful mountains and rivers.
Hangzhou: West lake, unique temples and gardens.
Yangse river cruise
Tibet: Rooftop of the World. A truly unique culture, a surreal, mystical travel experience.
Yunnan province: South-west China is a wonderful side-trip. Dali and Lijiang are compelling visits for their ethnic minorities as well as the physical beauty of the area.
Hong Kong: With its incomparable harbor and skyline, Hong Kong is truly one of the most magnificent settings in the world, plus world class hotels and restaurants.