Laos
Laos travel information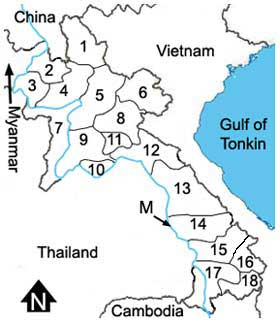 Provinces of Laos
1 = Phongsali
2 = Luang Namtha
3 = Bokeo
4 = Oudomxai
5 = Luang Prabang
6 = Huaphan
7 = Xayabouri
8 = Xieng Khouang
9 = Vientiane province
10 = Vientiane prefecture
11 = Saysomboune
12 = Borikhamsay
13 = Khammouane
14 = Savannakhet
15 = Saravan
16 = Sekong
17 = Champasak
18 = Attapeu

M = Mekong river

Geography
Laos is a land-locked country surrounded by China in the north, Vietnam in the north and east, Myanmar in the west, Thailand in the south and west, and Cambodia in the south. Laos has total land area of about 70,000 square kilometers most of which are hills. The eastern part is a mountain range from north through the south forming headwaters and watersheds for the rivers which flow into the flat terrain in the west and finally into the Mekong river. Mekong river serves as Laos border with Myanmar and Thailand for the most part, and is an important transport route in the region. The country is divided into 17 provinces and a municipality.

Time
Time in Laos is 7 hours ahead of Greenwich Mean Time (GMT +7)

Climate
Climate is similar to those of Myanmar and Thailand. Rainy season from early June till early November, Cool season from November to February, and hot period from February to June. In Vientiane province (and Vientiane municipality) the highest and lowest mean temperatures recorded between 1998 and 2003 are 38ºC (April mid-day) and 18ºC (January morning) respectively.

Language
Official language is Lao which is very similar to local Thai used in the north-eastern Thailand (called Easern). English is fairly understood in the cities. Some older people could speak French.

Money matter
Laos money is Kip. US$, Thai Baht and other major currency could be changed into Kip in most cities. Credit cards are accepted in major hotels.

Population
1998 estimate is 5 millions of which more than 65% are Buddhists.

Electricity and telecommunications
Laos uses 220 Volt, 50 Cycles electricity. International phone and fax calls can be made at hotels, resorts and telecommunication offices. There are internet outlets in Vientiane, Luang Prabang and a few other cities.

Country code : 856
Area codes are Vientiane : 21, Luang Prabang : 71, Pakse : 31, Xieng Khouang : 61, Khammouane : 51, Oudomsay : 81, Savannakhet : 41.

Entry and exist points
Visa on arrival can be obtained at the airports and Lao-Thai friendship border bridge in Vientiane prefecture.
Wattay International Airport in Vientiane Municipality.
Luang Prabang International Airport in Luang Prabang province.
Pakse International Airport in Champasack province.
Botene check point in Luang Namtha province - Mohan in Yunnan province of China
Houixay in Bokeo province - ferry boat on the Mekong river to Thailand's Chiang Khong
Friendship Bridge (Thailand's Nongkhai - Vientiane) checkpoint in Vientiane prefecture
Thakhek in Khammouane province - ferry boat on the Mekong river to Thailand's Nakhon Phanom
Thaheuasavanh in Savannakhet province - ferry boat on the Mekong river to Thailand's Mukdahan
Vangtao in Champasack province - Chong Mek check point in Thailand's Ubon Ratchathani province
Dansavanh in Savannakhet province - Lao Bao in Vietnam
Nam Pao check point, Lak Sao (km 20), Khamkeut distric in Borikhamxay province - to Vinh in Vietnam
Namkan in Xiangkhuang province - to Vietnam
Na Phao checkpoint in Khammouane Province - to Vietnam
Sobhun check point, Phongsaly province - Yunnan province of China
Immigration offices
Vientiane (Head Office): 021 212 520
Wattay International Airport: 021 512 012
Khau Midthaphap (Friendship Bridge): 021 812 040
Luang Prabang International Airport: 071 252 337, 252 583

Passport and visa
All visitors need a valid passport and visa to enter Laos. Thais, Vietnamese and Chinese can enter to the provinces with which they have border check points without passport and visa for a day. Thirty days tourist visas can be obtained at Laos embassy or consulate located in the countries such as Australia, France, Russia, Sweden, USA, Poland, Germany, Cuba, Japan, Singapore, Mongolia, Brunei, Philippines, China, India, Malaysia, Thailand and Vietnam. Tourist visa can be extended at immigration offices.

Getting around
Highway network is still not yet properly developed in Laos, but it has been improved. Most cities are linked by car roads, and there are river transport available throughout the country though they are not a very convenient way and are dependent on seasons. Laos aviation serves several cities in Laos.

Phone numbers at the airports with city phone codes in brackets

| City (City code) | Lao Aviation phones | Airport phones |
| --- | --- | --- |
| Wattay - Vientiane (VTE) | (021) 212 057, 512 028 | (021) 512 165 |
| Luang Prabang (LPQ) | (071) 212 172, 212 173 | (071) 212 856 ~ 7 |
| Xieng Khaung (XKH) | (061) 312 027, 312 177 | |
| Huay Xai (HOE) | (084) 211 026, 211 494 | |
| Oudomxay (ODY) | (081) 312 146 | |
| Luang Namtha (LXG) | (086) 312 180, 312 053 | (086) 312 141 |
| Savannakhet (ZVK) | (041) 212 140 | (041) 212 213, 214 462 |
| Pakse (PKZ) | (031) 212 252, 251 460 post 110 | (031) 212 844 |
| Xamneua (NEU) | (064) 312 023, 312 237 | |
| Xayabury (ZBY) | (074) 211 066 | |
| Phongsaly (PHS) | (088) 210 032 | |

A departure tax of 10 US$ is levied for international flights while 5,000 Kips is levied for domestic flights.

Offices in Vientiane of airlines with regular flights to and from Laos
Lao Airlines: +856-21-212 057 ~ 8
Thai Airways International: +856-21-253 253
Bangkok Airways: +856-21-222 528 ~ 9
Vietnam Airways: +856-21-217 562
China Yunnan Airlines: +856-21- 212 300