Trip reports - Trip to Ngwe Saung beach

A trip by car to Ngwe Saung beach from Yangon (October 2003)


When thinking sea beaches in Myanmar most people remember Ngapali in Rakhine state and Myeik islands in the south, Thaninthayi division. Ngwe Saung is relatively unknown - thus it is still not very crowded and there are lots of things original to see. A few years back most of the visitors to Ngwe Saung beach were local Myanmar people who came here for holidays especially the local new year days in the middle of April.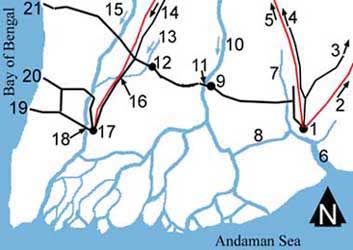 1 = Yangon city
2 = Train route to Bago, Mandalay
3 = Road to Bago, Manalay
4 = Road to Pyay, Magway
5 = Railway route to Pyay
6 = Yangon river
7 = Hlaing river
8 = Twante canal
9 = Nyaung Dong
10 = Ayeyarwaddy river
11 = Nyaung Dong bridge
12 = Kyaung Kong
13 = Da Ka river
14 = Road and railway routes from Hinthada
15 = Pathein (Nga Won) river
16 = Car/train bridge
17 = Pathein (capital of Ayeyarwaddy division)
18 = Ferry crossing
19 = Ngwe Saung beach
20 = Chaung Tha beach
21 = Kanthaya beach

Up to 2003, the road is not very good especially the section after Pathein. Yangon to Pathein is around 190 km which could be finished in 4 to 5 hours. There are several bridges crossing rivers. The region is a flat land of many river streams and large paddy fields.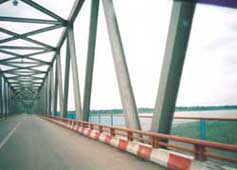 The bridge over the Ayeyarwaddy river after Nyaung Dong town

The road from Yangon to Nyaung Dong, and to Kyaung Kong is in relatively good condition. The road passes small towns and villages. People are mainly employed in the agriculture, and river related businesses such as transportation, fishery and boat building. There are some small scale agricultural industries.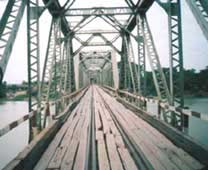 A bridge for both trains and cars.

Around 38 km before Pathein there is a bridge over Da Ka river. The only lane of the bridge is for both trains and cars. Cars from each direction are allowed to cross the bridge in turn. When a train approaches cars on both sides are blocked to enter the bridge.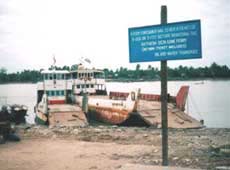 Ferry boat crossing over Pathein (Nga Won) river.

Pathein is the officical capital of Ayeyarwaddy division. It has a sea port, river ports, few hotels, government departments, and some industries. After Pathein there is Pathein or Nga Won river to cross. Up to October 2003, the bridge is under construction. People and cars have to be put on the ferry (Z-craft) to cross the river. At this time there is only one ferry at 1200hours. Foreigners have to pay US$ 5 for round trip crossing. If you arrive at the jetty in the afternoon you have to pay for the charter ferry boat fee.

Ngwe Saung is about 48 km from Pathein. Here it is difficult to say approximately how many hours for this section. In October (open season) it should be only two hours if there is no road repair (or construction) works; however it could be as long as four hours in the rainy season. The dirt road climb the southern low hills of Rakhine mountain ranges.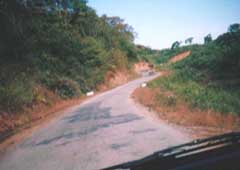 The road from Pathein to Ngaw Saung beach.

The 6 to 7 long hours driving will finally pay off when you reach Ngwe Saung beach. It is a complete difference from Pattaya or Phuket of Thailand. There are no large buildings, no night entertainment. Currently about 2 or 3 first class accommodations plus several other smaller hotels and resorts serve the tourists.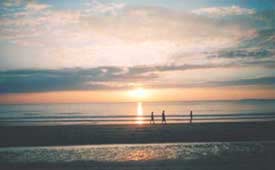 Sunset at Ngwe saung beach

The beach is over 14 km long and during the low tide it is really wide. Due to the smooth slope and wide sands it is good to do various beach sports. Some hotels arrange boat trip to nearby islands, as well as diving and sailing.

The other way to go is by a passenger boat, normally 2 days 1 night trip, to Pathein and continue in a car. Check in Yangon for ship operators. They run regularly during the high tourist season from October to March. Myanmar newyear holidays (middle of April) is crowded with mostly local tourists. Booking for hotel rooms during X-mas holidays will also be quite expensive.