Trip reports - Climb Mt. Victoria

A trip to Mt. Victoria in southern Chain state (January 2004)


The Chin state forms a substantial parts of Myanmar's (Burma) western borders with Bangladesh and India. In the east it meets Sagaing and Magwe divisions, while Rakhine state lies to the south.

The Chin state is a mountainous region, and source of water for many river streams that wet the valleys of the mountain ranges, and flow down to the plain in the east and south. Kaw Nu Symm peak (also called Mt. Victoria or Nat Ma Taung) is the highest mountain in the Chin state, reaching a height of 10200 feet or 3100 meters above sea level.

A land of misty skies, towering pines, and the beautiful Alpen rose or Tree rhododendrons, much of the state offers vistas of unspoiled charm.

A trip form Bagan to Mt. Victoria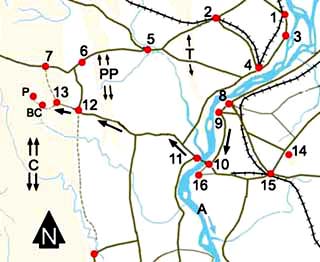 P = Mt. Victoria peak (10200 feet or 3100 meters above sea level)

BC = Base camp (3.33 km climb to the peak)

A = Ayeyarwaddy river

C = Chin state hills

PP = Pondaung Ponnya hills (where remains of prehistoric humans were found)

T = Tent Kyi hills

1 = Yasagyo
2 = Myaing
3 = Pakhangyi
4 = Pakokku
5 = Pauk
6 = Kyauk Tu
7 = Mindat
8 = Nyaung U (airport to Bagan)
9 = Bagan (Buddhist archaeological site)
10 = Chauk
11 = Seik Phyu
12 = Saw
13 = Kampalet (Bungalows for overnight stay - 6.4 km rough road to the base camp)
14 = Mt. Popa (extinct volcano)
15 = Kyaukpadaung
16 = Sale (old pagodas and monasteries)

January weather was clear and cool in Bagan plain. We had Pyatho full moon day on 06 January with a festival in the Ananda temple compound, where people came to offer assessories such as robes to the monks.

In the early morning of 07 January we left Bagan in two reconditioned jeeps from the second world war era. Altogether we were eight; three friends from Canada, one from Yangon, two from Bagan, and two drivers. In Chauk (12.5 km south of Bagan or more than half an hour drive) we walked into a local market for some last minute shopping. Chauk is the former hub of oil exploration and refinary complex. Now there were not much of the oil business there. We crossed the Ayeyarwaddy river by Anawyahta bridge and continued on the western region of the country.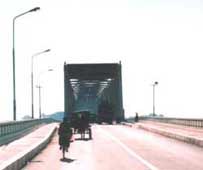 Anawyahta bridge over the Ayeyarwaddy river

The road was one lane paved and not bad. Two km after the bridge is Seik Phu town, a small community amids villages of mostly farmers, and farm owners. A few minutes later we arrived at the three ways intersection where the roads from Seik Pyu, Saw and Pakokku meet.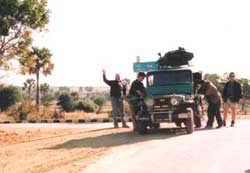 Intersection of roads from Seik Pyu, Saw and Pakokku

At 10AM we arrived at Kazunma (16 km from Seik Pyu), around where there were some small scale oil exploration activities taking place. The road was a dirt path and it took two hours to cover just 16 km. Along the way we saw small villages with wooden houses, most of them were farmers' homes.

Then the road became even more worse. The path started to go up small hills. About 5.5 km after Kazunma we were passing the foot hills of Pondaung Ponnya range. Somewhere in this region remains of the ancient prehistoric people were found by villagers and archaeologists. We were then heading to Saw, a larger town in the foot hills of Chin state. Scenes were more beautiful as we climbed up and up. We had a late lunch at a restaurant in Saw. Local style rice and chicken, and a large bowl of vegetable soup. We were privided boiled water. It was three hours since we passed Kazunma, covering just 25 km.

Now we were driving the zip-zap turns widing up the mountain road. We stopped more frequently to stretch out our legs and to let the engines cool a bit. After one full hour drive covering 7.5 km we got into Kampalet town at 1380 meters above sea level. The current town is called New Lampalet town. From where we continued several kilometers to our guesthouse; Chin Eco-Lodge built at an elevation of 2400 meters above the sea.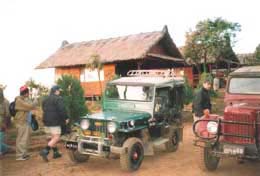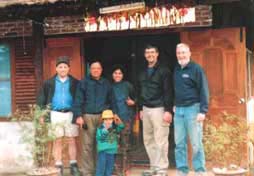 Arrive Chin Eco-Lodge (left); With the lodge manager (right)

Next day, after the early morning hot and delicious breakfast we left for the base camp in the jeeps. In the past people had to walk all the way to the summit. Now things were made easier by expanding the mountain trail so jeeps or four weel drive cars could go up till the base station at nearly 2700 meters above the sea. The base camp is called 10 miles station. Our old, but strong jeeps took more than one hour to finish it. We now prepared for the final climb, this time on foot.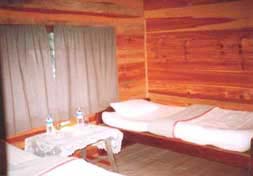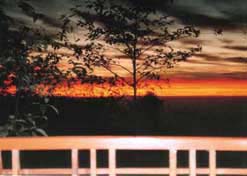 Chin Eco-Lodge bed room (left); Sun rise over Chin hills (right)

The weather was cold. There were not much trees. Since we entered Chin hills we did not see much of the thick forests. There were pines, flowers, birds. However, since electricity and other types of energy were still partially available only in the large towns, most people and all villagers depended on wood to cook their food. Besides, wood is the only raw material available to build homes, furniture and other accessories. Reforestation had been planned and implemented but with low efficiency. It took three hours to reach to the summit. From the 10 miles station we walked 2.5 km uphills to the peak. We had good snacks and drink at the summit near the white zedi. We met several monks at the summit, who walked from their monastery.



Summit of Mt. Victoria (10200 feet or 3100 meters)

Walking down was not so strenuous as the ascent. There were not much steep slopes along the ridges. When we were back in the Eco-Lodge we had our delicious Chin lunch. We then went out to visit the Chin villages nearby.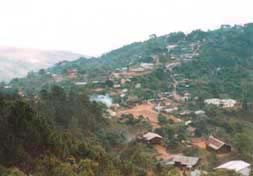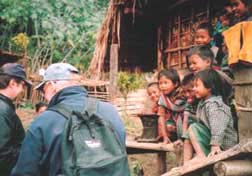 New Lampalet town (left); Visit of a Chin family (right)

We also met a few old Chin ladies with tatoos on their faces. There were not many people with face-tatoos now. People informed us that more such people could be found in Mindat town areas, to the further north.

On 09 January, after the breakfast we said good bye to our host Chin family at the lodge, and off we went back to Bagan in the jeeps. The long drive on the dirt road gradually brought us to the low land and finally to the Ayeyarwaddy river again.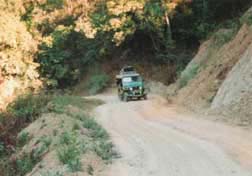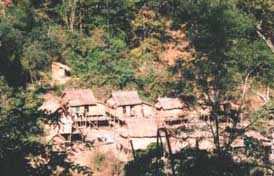 Kampalet to Saw (left); A timber extraction camp between Kampalet and Saw (right)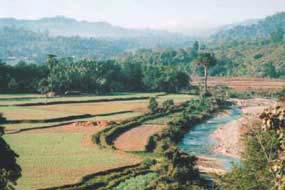 Near Saw town