States and divisions - Shan state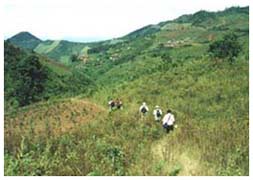 Shan state is the largest province of Myanmar, bordering China's Yunnan province to the north and Thailand's Mae Hong Son, Chiang Mai and Chiang Rai provinces to the east. The physical nature is plateau and succession of mountain ranges said to be older than those in the western regions of the country. There are many river streams; the largest and longest being the Thanlwin (Salween) which enters Shan state from Yunnan province and flows north to south and later goes through Kayah, Kayin and Mon states before draining into the Andaman sea.

The Mekong river serves as border line between China and Shan state for a short 40km at the eastern tip, and again between Laos (Luang Nam Tha and Bokeo provinces) and Shan state before arriving at the famous golden triangle tip where Laos, Myanmar and Thailand meet. The average height of the plateau is 900 meters. The plateau rises quite abruptly from the central plain.

Many ethnic tribes live in the state, including Shan, Intha (poeople who live on the Inle lake), Danu, Taungyoe, Pa-O, Musay, Akha, Palaung, Lisu, Wa, Bamar and Thai.

The main occupation is agriculture, and many of the farming are just for self sufficiency plus for barter trade to exchange goods with other home-based producers. Rice and tea are the main large scale agriculture. Maize, millet, wheat, ground nut, soy bean, sugar cane, coffee, pears, peaches, orange, tobacco, cotton are grown. Thanat leaves (used as cheroot wrappers) are grown in many places. Poppy cultivation can be seen in the border regions with China, Laos and Thailand. Poppy reduction and alternative crops are being promoted.

Mining and forest industries are also important economies of the state. Namtu (northern Shan state) has silver and lead mines. Teak and other hard woods such as Pyinkado (Iron wood), Pyinma, In, In-gyin and Thitya are found below 900 meters. Above 900 meters there are Pines and Oaks. Timber extraction has been done in large scale, and thus the forest coverage has became alarmingly low. It is very extremely important to do serious re-forestation and systematic extraction of wood. Many places in the Shan state do not have electricity so people need to cut wood to build fire.

Tourism and transport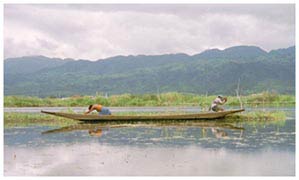 There are three main tourist spots: southern, eastern and northern areas. The southern area includes Inle lake, Pindaya, Kalaw and Taunggyi circuit. Permitted places on the eastern edge is centered around Kyaing Tone. On the north tourists can travel Mandalay till Chinese border at Muse.

Inle lake is by far the most popular spot in the state. There are now several middle to first class accommodations built on and around the lake. Budget and standard hotels and guest houses are plenty. People can go there by car, by flight or by train. Normally foreign tourists would use either car or flight because the train is slow, sometimes extremely slow especially in the rainy season while the rails become slippery. The car ride, for example, from Bagan to Kalaw also could take around 7 hours. The airport is located in Heho.

The famous spots are Pindaya limestone caves where there are thousands of Buddha images, scenic Inle lake with old pagodas and monasteries, the Kakku ancient temple in the south of Taunggyi. Trekking and hilltribe village home stay or monastery stay are also popular. One unique thing about Inle lake is the ability of Inthas (people living on the lake) to row their boat standing on one leg and handling the paddle with the other. Inthas build their homes and farms on the lake (floating gardens).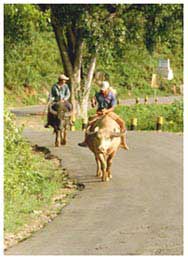 The eastern area is based around Kyaung Tone. So far foreigners are allowed to travel there only by either flight from other cities (Heho, Tachileik) or car from Tachileik at Thai-Myanmar border. The road between Kyaing Tone and Taunggyi is considered not safe. Around Kyaing Tone there are opportunity to do trekking to visit Akha and other tribe people villages. A visit to China border ar Maung La (in the north) and Lao border on the Mekong (opposite Xieng Kok in Lao's Laung Nam Tha province) river is also possible. However crossing the border may not be possible as these are for local people.

The trip to the northern area usually starts from Mandalay. From Mandalay tourists can travel passing Maymyo (Pyin Oo Lwin), Hsipaw, Lashio and up to Muse at the China border. Here at the border if you have China visa you can enter China. Also Myanmar visa holders can enter Myanmar at this point. However it is also said that to cross the border here and to leave Myanmar at other exist point (or vice versa) you need a permit. After Maymyo there are military check points where soldiers will check travel document.

A lesser known but interesting place is Padalin caves close to western border with Mandalay division, or north-west of Pindaya - the site of other limestone caves. A number of artifacts along with ancient wall paintings were found in the caves. It could be reached from Ku Me town (on Yangon - Mandalay highway, 64 km north of Meikhtila and 88 km south of Mandalay). There is a road heading east until it reaches a reservoir. After a 30 minutes boat ride and further one hour trek will take you to the caves.