States and divisions - Chin state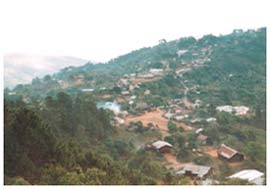 The mountainous state is bordering with Bangladesh and India on the west, and Rakhine state on the south, Magwe and Sagaing divisons on the east. The whole region is made up of high hills and deep valleys, and there is hardly any plain or plateau. The average elevation varies between 1500 and 2700 meters, the highest being Nat Ma Taung or Mt. Victoria in southern Chin state at 3100 meters above sea level.

Manipur river flows from India into Chin state from the northern tip, passes Ton Zang, Tiddim, Falam and then turns to the east to the low land to join Myittha river in Magwe division. Myittha river in turn flows into Chindwin river in Sagaing division. Near Falam there is a hydroelectric power station.

Other important rivers are Kissipanadi or Kaladan river, and Laymyo river both of them flow southward to Rakhine state and later empty themselves into the bay of Bengal (Indian ocean). The rivers in the state are full of rapids and white waters, and thus not suitable for navigation. Only small boats and canoes can travel in certain sections, mostly downstream.

Ethnic groups living in Chin state include Chin, Lai, Simbhrin, Kumi, Cho, Siyin, Matu, and Bamar. Majority of population is Christian. Major occupation is agriculture, however it is not well developed due to the scarcity of large valleys and plains. Shifting cultivation is still prevalent. Terrance cultivation is slowly being introduced along the hillsides. Due to difficult terrain human labour is the main driving force of work done. Mountain rice, wheat, maize, coffee, orange, damson and apple are grown. Chin textiles especially blankets and Yaw Longyi (circular ring of cloth worn at the waist to cover the lower part of the body) are famous. Many Chins still use the traditional method of hand weaving.

Teak and other hardwoods are found at elevation below 900 meters. Above 900 meters there are oaks and pines. Teak, pines, canes, resin and turpentine are important forest products. Since electricity is not available in most villages people depend on the wood for cooking.

Travel and tourism
Travel to Chin state is mainly by car on poor roads cut along the mountain sides and valleys. Very rugged nature of the landscape makes travel difficult, and land slides are not un-common. In certain areas cars have to carry shovels and garden hoe to clear the land slide and stones cover. Normal Chin villagers would travel daily on foot from village to village and to and from the farms.

Palatwa town in the southern Chin state could be reached from northern Rakhine state by Kissipanadi river. It is possible by only small motor boats. The road from Kyauk Taw (Rakhing state) is good only in the dry season for rough trucks. The other southern towns such as Kanpetlet (where Nat Ma Taung or Mt. Victoria national park is), Mindat, Madupi could be reached from the central plain region. The roads are not so good, however they are in so so conditions. The only north-south highway within the state connects the northern border town of Chikha (close to Indian border) to Ton Zang, Tiddin, Falam, Hakha, Aika and Madupi.

From Kalay (Sagaing division) both large and small trucks carrying passengers and goods travel to Tiddin, Falam and Hakha daily in summer (February - July) and winter (October - February).

Tourism is by permission. Climbing the peak of Mt. Victoria is usually done from Bagan. In Kampatlet there is (January, 2004) a lodge offering basic bungalow style accommodation. In other towns tourists have to use government guest houses since small private hotels do not have basic tourist facilities. There is a beautiful heart shape lake called "Reh" close to the Indian border, which can be reached from Falam by jeep. The border check point at Chikha is opened to local people only.