States and divisions - Yangon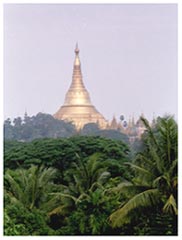 Yangon division was curved out of former Bago division, occupying the greater Yangon (Rangoon) and surrounding townships. It extends to the eastern banks of the lower Ayeyarwaddy streams and the gulf of Moattama in Andaman sea. The landscape is largely flat plain dotted with low hills which are the continuation of Bago mountain range in the north. Pan Hlaing and Hlaing rivers form Yangon river in the western part of the city. Pazun Daung creek and Bago river flow into Yangon river at city's south-eastern tip and proceed southward to the sea. Yangon river is connected to Ayeyarwaddy division by Twante canal.

Yangon and surroundings receive three seasons: hot season from February to June, Rainy season from July to October and not so cool season from November till January. This three season pattern is the average weather structure of the whole country. However the divisions between the seasons are now not so clear as in the past.

The city is the most developed place in the country with trains routes, car roads, traffic lights, government buildings, private and government banks, post offices, some internet cafes, mini markets, markets, bus stations, boat piers, pagodas, schools and colleges and universities, hospitals, hotels and many private businesses, foreign embassies, religious buildings, gardens, etc. Yangon ports and custom houses and warehouses are among the largest in the country.

A lot of buildings and roads have been developed during the last two decades, 1980's to 2000's. Many of these have been built without careful planning and cooperation, and hence there have been problems such as too narrow or small staircases, lack of waste disposal systems, lack of cultural and environmental consideration, bad appearence, and so on. Colonical era buildings most of which are now government departments could be seen along the Yangon river in the southern part (the down town) of the city.

In many parts of the city electricity is provided less than 24 hours a day; and even if it does come the voltage may be lower than the design value of 220 Volts. So one can notice battery back-up stytem, transformers, chargers, and so on in almost every house.

Bamars, other ethnic groups, Chinese, Indians live in Yangon. Major economy of the satellite townships surrounding the city is agriculture with rice as their main crop. There are many industries such as food processing, textile, house furnishing, chemical, stationary and printing, ceramics, metal and engineering. Many service related companies, brokerage companies, import-export and man power suppliers are also based in Yangon.

Transport, communication and Tourism
Yangon is where most international tourists enter the country by air. Many tour programs offered by travel agents start and end in Yangon. Because it is the hub of all domestic flights and other modes of internal transportation it is easier to start the Myanmar trip itinerary in Yangon. By flight Yangon is connected to Bagan (Nyaung U airport), Heho (to go to Inle lake), Mandalay, Myitkyina (Kachin state), Thandwe (Ngapali in southern Rakhine state), Sittwe (northern Rakhine state).

In Yangon the most famous place virtually all tourists would visit is the Shwedagon pagoda built on a hill in the city center. Other popular pagodas include Botataung pagoda (zip-zap tunnel structure) near the Yangon river, Chauk Htat Gyi reclining Buddha image, Kaba aye (World peace) pagoda and Naga cave hall. There are restaurants serving international and local meals and drinks, art galleries, meditation centers, the Bogyoke market, gem center, national museum.

Outside the city Twante is a small town located on the southern bank of Twante canal. It can be reached by ferry boat. Twante produces earthern pots, fruits and vegetables. Thanlyin is on the southern bank of Bago river, which is linked to Yangon city by Thanlyin bridge. Old Portuguese cemetry, Kyaikkhauk pagoda and the mid water pagoda (Yele paya) in Kyauktan around 16 km south of Thanlyin are tourist spots. Let Khok Kone beach is at 50km south of Yangon. Cross the Yangon river by ferry boat to Dala township from where take the bus or arrange own transport to the beach on the shore of Andaman sea.

Most of the accommodations are located in and around the greater Yangon area. Budget to luxuary class hotels are available. Many of them have their own web sites and emails. Thanlyin and Let Khok Kone beach have a few guesthouses that could accept foreign visitors. Only some international hotels can accept credit card payment.

Road side telephone boxes are installed in the crowded places. So far there is no phone or ATM machine that accept foreign phone card, credit card, or bank card. Public toilets are not many. Postal services by government and private companies are available.