Tours - 7 Days 6 Nights Yangon, Mandalay, Bagan

From Yangon, you will be traveling to Mandalay the city of former Kings, and then to Bagan the 11th century Buddhist archaeological site. If you travel in June to January you could take boat ride on the Ayeyarwaddy river to Bagan.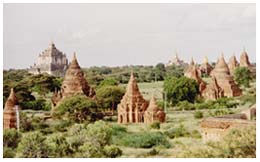 Day 1: Arive Yangon
You should arrive Yangon in the morning, if not it is still fine. Meet at the airport and transfer to the hotel. After the introduction go for the city tour to see the lives and sounds of people, pagodas, river jetty, the markets and in the evening Shwedagon pagoda, very famous 109 meter high gold plated stupa built on a hill in the center of city. Overnight hotel in Yangon.

Day 2: To Mandalay
Breakfast at hotel. Transfer to the airport, and fly to Mandalay in a morning flight. From the airport transfer to visit Amarapura (an ancient capital of Kongbaung Dynasty in 1783). Visit Kyauktawgyi pagoda, Mahar-ga-na-yone monastry, local silk and cotton weaving industry and U Bein bridge (2km long wooden bridge across Taung Tha Man lake).

Then proceed to another old capital, Innwa, a small town close to Amarapura. Visit "Nan Myint" watch tower, "Maha-Aung-Mye-Bonzon" monastry and "Bagara monastry". About noon or early afternoon proceed to the hotel in Mandalay.

After a rest go for evening sightseeing in Mandalay city. High lights are "Maha Myat Muni" pagoda, "Atumashi" monasty, Mandalay palace, "Shwe In bin" monastry. Evening sun down panorama views shall be had from the top of Mandalay hill. Overnight hotel in Mandalay.

Day 3: Mandalay and around
Breakfast at hotel. In the morning we will arrange a private boat trip from Mandalay to Mingun on the Ayeyarwaddy river (45 minutes ride - 11km). Visit one of the world's largest ringing bronze bell, and the un-finished yet still massive Mingun pagoda, as well as nearby villages.

Back to Mandalay by boat and continue in a car to Sagaing on the western bank of the Ayreyarwaddy. Visit "Kaung Mu Daw" pagoda, silver workshops, and to the Sagaing hill range dotted with pagodas and meditation centers. Have a sun down panorama views from the hill.

Back to Mandalay in the evening. If you still have time and thirst for shopping, there are many handicrafts making shops such as gold-leaf making, embroidery work, marble work, wood curving. Overnight hotel in Mandalay.

Day-4: To Bagan on Ayeyarwaddy (the date depends on the boat schedule)
Early breakfast, or pack the brekafast, lunch boxes and drinking water. Car transfer to the boat jetty. Today is a boat trip on the Ayeyarwaddy river down to the 11th century buddhist archaeological site at Bagan. Back to the old times!!

The boat is a tourist boat or public boat, seats in halls, roofs, decks, common toilets, a restaurant onboard. It departs Mandalay at about 6am, stops at a couple of places. You will see the local villages, fishing boats, small cargo boats, firms on the river banks, bull carts – the life on and along the largest river of Myanmar.

Arrive Bagan jetty in the evening. Car transfer to hotel. Free time at your leisure. Overnight hotel in Bagan.

Day 5: Bagan
Breakfast at hotel. Whole day exploration of the ancient temples in and out of Bagan. There are thousands of ancient monuments. So our guide will help manage the time and pace to see the most interestings. In the evening do not forget to have a sunset view from a high platform of a temple (or from the watch tower). There will be ancient temples all around you, the ayeyarwaddy being behind them, and Tent Kyi hills are on the western bank. Beyond that the sun sets. Overnight hotel in Bagan.

Day 6: Bagan, Popa and - -
Breakfast at hotel. Excursion to Mt. Popa at 50 km south-east of Bagan. On the way you will see lives in villages, toddy brewery. Mt. Popa is an extinct volcano of more than 1500 meters high above sea level.

You will however visit the volanic plug (736 meters high cone shape small hill built up of lava and rocks) on the slope of the main Popa. There are many pagodas, monasteries and sprit houses there. In the early afternoon back to Bagan.

The afternoon and evening you will do either one or both of the followings:
Visit of handicarfts makers. Bagan is famous for lavquarware makers.
If the weather is clear, take a boat across the Ayeyarwaddy to gp up Tent Kyi hill on the western side for a different panorama views, as well as to visit the hill-top pagoda which is also an ancient.
Overnight hotel in Bagan.

Day 7: Back to Yangon and departure
Breakfast at hotel. Transfer to Nyaung U airport to fly to Yangon. Connect to your departure flight.

Remarks
We can provide domestic flights, air-conditioned tour car or bus, boat, boat tickets, local guides, hotel booking service, meals and sightseeing for this trip. Depending on what hotels you want, number of people and the details the price will vary. The program can be changed to suit your requirement and according to the local situations.