Tours - 7 Days 6 Nights Yangon, Bagan, Inle lake

After the capital Yangon and archaeological site of Bagan continue to the southern Shan state for something diferent. Enjoy the scenes and cultures of mountains.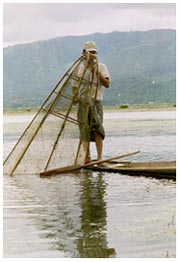 Day 1: Arive Yangon
You should arrive Yangon in the morning, if not it is still fine. Meet at the airport and transfer to the hotel. After the introduction go for the city tour to see the lives and sounds of people, pagodas, river jetty, the markets and in the evening Shwedagon pagoda, very famous 109 meter high gold plated stupa built on a hill in the center of city. Overnight hotel in Yangon.

Day 2: To Bagan
Breakfast at hotel. Car transfer to the airport to fly to Nyaung U airport near Bagan. After checking into the hotel in Bagan start your exploration of the ancient temples in and out of Bagan. There are thousands of ancient monuments. So our guide will help manage the time and pace to see the most interestings. In the evening do not forget to have a sunset view from a high platform of a temple (or from the watch tower). There will be ancient temples all around you, the ayeyarwaddy being behind them, and Tent Kyi hills are on the western bank. Beyond that the sun sets. Overnight hotel in Bagan.

Day 3: Bagan, Popa and - -
Breakfast at hotel. Excursion to Mt. Popa at 50 km south-east of Bagan. On the way you will see lives in villages, toddy brewery. Mt. Popa is an extinct volcano of more than 1500 meters high above sea level.

You will however visit the volanic plug (736 meters high cone shape small hill built up of lava and rocks) on the slope of the main Popa. There are many pagodas, monasteries and sprit houses there. In the early afternoon back to Bagan.

The afternoon and evening you will do either one or both of the followings:
Visit of handicarfts makers. Bagan is famous for lavquarware makers.
If the weather is clear, take a boat across the Ayeyarwaddy to gp up Tent Kyi hill on the western side for a different panorama views, as well as to visit the hill-top pagoda which is also an ancient.
Overnight hotel in Bagan.

Day 4: To Inle lake
Breakfast. Transfer to Nyaung U airport. Take a flight to Heho airport. From Heho to Inle lake we will transfer you in a car. At the Nyaung Shwe highway junction you can have a short stop to observe the activities and movement of people and goods.

Depending on the location of the hotel at Inle lake continue in a car or a boat. After a rest have a tour of Inle lake. Visit "Phaung Daw Oo" Pagoda, "Nge Phe Chaung" monastry, floating gardens. Evening time can be spent on the shore of Maing Thauk village on the eastern bank for village life, monastery life, and a memorable sunset view. Overnight hotel at Inle lake.

Day 5: Inle lake Breakfast at hotel. Visit of fishermen communities near Nan Pan village, floating gardens, handicrafts making villages (silk weaving, etc.). In the afternoon come to the western shore for a walk to In Dein pagodas. Overnight hotel at Inle lake.

Day 6: Inle - back to Yangon
Breakfast at hotel. Free time until transfer to Heho airport. Flight to Yangon and car to the hotel. In the evening you may have a sightseeing of the Yangon city. Overnight hotel in Yangon.

Day 7: Departure
Breakfast at hotel. Free time until we transfer you to the airport for your departure flight.

Remarks
We can provide domestic flights, air-conditioned tour car or bus, boat, local guides, hotel booking service, meals and sightseeing for this trip. The program can be changed to suit your requirement and according to the local situations.

You can add a day or two to include Pindaya, Kalaw, or trekking and village home stay into the program.