Tours - Extension trips

From the main tourist places of Myanmar such as Yangon, Bagan, Mandalay, Inle lake you can go day return or two to several days trips to other less travelled but equally interesting spots. Only some of them are outlined below.



Long sand beaches of Ngapali, Rakhine state, Myanmar


Ngapali beach (Rakhine state)
Long sand beaches of Ngapali are ones of Myanmar's most famous but compared to the popular beaches in Thailand and elsewhere it is a quiet sea side destination. The long curvy beaches with backdrop of low Rakine hills in the east, farming and fishermen villages to the north and south are ones of the last sea beaches of South Asia to discover.

Travel by flight to Thandwe (from Yangon and Sittwe) is the most convenient way and thus used by majority of foreign tourists. Standard to first class international accommodations are available. Ngapali is still a lot similar to its old days except that now there are several hotels out there on the beach.

Travel by car is possible via Pyay and Taung Gok. Yangon to Pyay is a good all weather road that takes only around 4.5 hours. However from Pyay, after crossing the Ayeyarwaddy to Taung Gok on the bay of Bengal is a rough road which could take 12 hours to one full day. From Taung Gok you need to continue in a car or boat to Ngapali.

Further south in the Rakhine state there is Kanthaya beach. Travel by car or boat is possible from Ngapali depending on the weather and flood conditions. Kanthaya beach is reached via Pathein of Ayeyarwaddy division by road.

Ngwe Saung beach
The beach is in Ayeyarwaddy division to the south of Rakhine state. There are a couple of good middle range international style hotels plus several other accommodations. It is relatively new and visitors are mostly local people. Up to 2004 there is no airport and people need to take a car to reach there. Yangon to Ngwe Saung by car is around 7 to 8 hours. After Pathein (capital of Ayeyarwaddy division) cars need to be carried to other side of the Nga Wun river by ferry boat. Check the ferry boat regular operating time, otherwise you need to pay extra charge.

From here you can also continue to lesser-known beach of Chaung Tha in the north, also in Ayeyarwaddy division.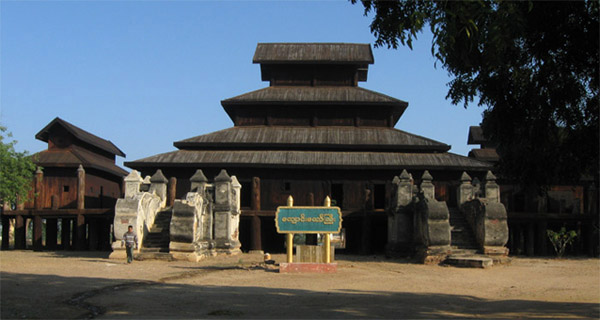 Wooden monastry (Old Buddhist teaching school) in Pakhangyi


Mandalay - Sagaing - Monywa - Pakhangyi - Bagan circuit
The bridge on Chindwin river at Monywa was open in 2003. It is now possible to travel from Mandalay to Monywa and continue by road on the western areas of the Ayeyarwaddy river till you get to Bagan. You should use at least two full days or more for this trip. Summer time (March to June) will be very hot. Places to visit include Chindwin river and villages, old monasteries in Pakokku especially the one at Pakhangyi village. At the end of the trip you may use a boat from Pakokku to Bagan. Hotel can be had in Monywa.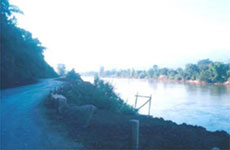 Mandalay - May Myo - Hsipaw - Lashio -Muse to China (Yunnan)
You need to have a valid China entry visa in hand. Take a private car in Mandalay. The trip could take 3 or 4 days. Overnight in May Myo (Pyin Oo Lwin), Hsipaw, Lashio. You can go slowly if you want to see more. The trip is scenic, very interesting. You will see lives of Shan and ethnic people that are different from the low land people.

To Myitkyina and back to Mandalay
The trip is not so convenient since Air Mandalay and Yangon Airways do not have regular flight to Myitkyina (capital of Kachin state). One way to go there is by use of rock and rolling train that would take 24 to 30 hours. In Myitkyina you can go around to visit Kachin and other ethnic villages, the confluence point of the Ayeyarwaddy river and the largest fresh water lake of the country "Indawgyi".

The return journey should be via Bhamaw. Take a rough truck to Bhamaw on a road parallel to the China border. There are several military check points to pass. Bhamaw has a couple of basic guesthouses. From Bhamaw take Inland Water Transport boat down the Ayeyarwaddy back to Mandalay. This river journey is very scenic; it will also give you close encounter with the local people. The boat takes 2 days and a night. During low waters (March - June) the boat may stop operating.