Tours - Eastern Shan State
Eastern Shan state can be reached by domestic flights from Heho and Mandalay, or by road from Thailand's Mae Sai. Up to 2004 the road between Taunggyi and Kyaing Tong is closed to foreign tourists due to bad conditions and security reason. Airports are located at Kyaing Tong and Tachileik.

The trip to this region would require 3 to 7 days or even more. Standard tourist class and budget hotels are available in Kyaing Tone (Keng Tung) and Tachileik (Myanmar border town with northern Thailand).

Within 3 days tourists can visit some of the following hilltribe villages: Akha, Akhu, Lahu, Lahu Na, Lahu Shi, Palaung, Wa, Ann (Enn), Lisaw (Li Shaw), and Shan. You will overnight stay in a hotel in Kyaing Tone and make day trips to these villages which are located within 50 km of the town. Pick up truck or van car will send you to the trail head from where you will walk on the village trail. The hikings are easy to moderate.

In addition, you could also visit the places in and close to Kyaing Tone town such as Maha Myat Muni pagoda, Standing Buddha image, the Water Buffalo market on the Taunggyi - Kyaing Tone road (twice weekly).

Photos taken in June/July 2004 by Ko Oo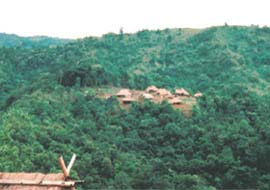 Nam Linn Khaung village seen from Wai Mai village. Both are "Ann" tribe people.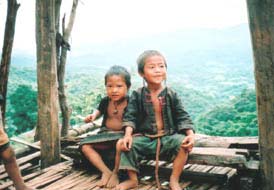 Top of the world! Children in Wai Mai village. "Ann" trribe people. They are part of Pin Tauk village group to the west of Kyaing Tong.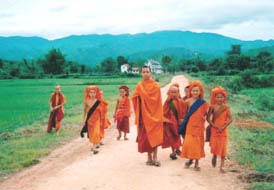 Young "Shan" novices on the road to Wan Sai village group located to the east of Kyaing Tong. At the end of this dirt earthern road people can walk up the hills to visit "Akhu" tribe villages. Most of "Akhu" tribes have been converted to Christians.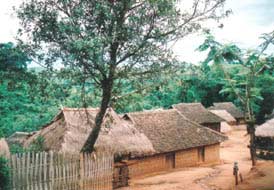 A "Akhu" tribe village in the hills. They are part of Wan Sai village tract. Shan villages in this tract are mostly located on low land.

If you have 4 to 8 days you can make trips to nearly all of the above mentioned tribal villages plus to Maung Lar (Myanmar border town to China's Yunnan province). Along the way to Maung Lar there are more mountain tribe villages such as "Lwe", and beautiful scenes.

You may also visit Loimwe forest reserve area and to Burma-Thailand border town at Tachileik as well as to the Mekong river with Laos border.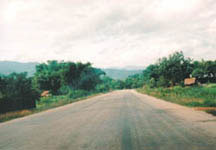 Border crossing
Foreign tourists are allowed to cross border between Myanmar and Thailand at Tachileik-Mae Sai check point. People can cross either way. Foreign tourists can enter Shan state and travel to Kyaing Tong and Maung Lar for up to 14 days with border pass.

Up to August 2004 the border check points for China and Laos are open for local people only.

To plan your travel to this region please contact us to custom design the itinerary. The trip can be combined with your visit to other parts of Myanmar. Or you can just come in at the end of a northern Thailand tour.

We can provide transport, guide, hotels, trekking. If you want Thailand and Myanmar; or Laos, Thailand and Myanmar three countries together trip we can arrange. Please also look at our Trek Thailand web site.

Note
The hilltribe villages inside Shan state are very much still in their traditional ways of living (2004). When you visit these people places please kindly do not bring foreign alcohols, cosmetics, plastics, foams, so-called energy drinks, etc. Also please consult the local guide to learn more about do's and dont's. If you come in a group please keep the group size eight people or fewer if possible to reduce the effects of tourism upon these ethnic people. Large group should be divided into smaller parties and go different routes.