Tours - Nature walks Chin state

Hike Mt Victoria in southern Chin state of Myanmar (Burma)
(From late October to April)

Chin mountain state on the western country offers stunning views and highland cultures and traditions of native hilltribe peoples. The state is not yet fully open (2005) to tourism, but permits to explore parts of its beauty can be arranged through the tour operators. For example hiking to the peak of Mt. Victoria also called Nat Ma Taung in Myanmar (10200 feet or 3109 meters above sea level) is arranged as day return climb or 3 to 4 days walk.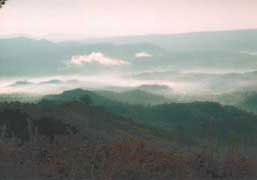 Chin hills - Peak of Nat Ma Mountain


Sample program to Nat Ma Taung (Mt. Victoria) from Bagan

Day 1
Bagan to Mount Victoria national park driving using 4wd jeep or land crusor available. Please expect very old but locally reconditioned ones. We will go Bagan to Chauk and cross the Ayeyarwaddy river via Anawyeikhta bridge to the western plain dotted with low hills. In the afternoon we will be climbing the foot hills of Chin state. On the way enjoy the scenes, village lives, and views of tribal people. Overnight stay at a guesthouse near the national park. Make friend with local guide and enjoy being in the hills with pines and other plants.

Day 2 (B,L,D)
After the breakfast we will start walking to Mt. Victoria. Chin hiking guide and helpers will carry the stuff while you take care of your own back packs. On the way study the plants, trees, flowers and birds. Visit a Chin village on the way. Today walk is approximately 12 miles or 19 km. Overnight in a forest hut made of bamboo.

Day 3 (B,L,D)
Breakfast at camp and continue walking uphill. We will pass two villages and their farms and you can study their simple life. Today we will walk about 6 miles or 9.6 km. Overnight in a forest hut made of bamboo.

Day 4 (B,L,D)
Breakfast at camp and continue walking uphill to the last camp. We will pass a dirt road used by local people. After walking about 8 miles or 13 km we will arrive at the forest hut which is the last camp.

Day 5 (B,L)
After the breakfast ascend to the peak at 10200 feet. It is about nearly 10 km and you will reach the peak in the morning. Enjoy the scenery and talke photos at the hill-top pagoda. We will descend the mountain using another way, 6 km, to the place where our jeep will be waiting. Back to the guesthouse for rest and overnight.

Day 6 (B)
Breakfast at guesthouse. Going back to Bagan arriving in the evening. End of the trip.

B = breakfast, L =lunch, D = dinner

Trip map (not to scale)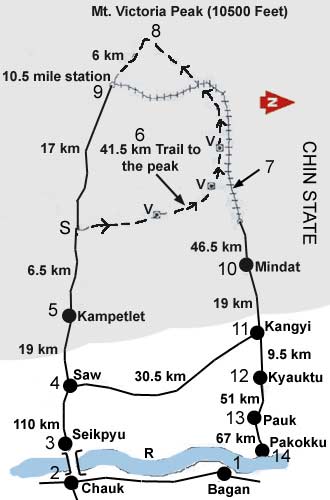 Bagan
Chauk
Seikpyu
Saw
Kampetlet (Chin state)
Trail to the peak
Dirt seasonal road
Peak
10.5 mile station (car can reach to this place)
Mindat
Kangyi
Kyauktu
Pauk
Pakokku
S. Starting point of this trek
R. The Ayeyarwaddy river
V. Village


We will provide
Transportation in jeep or other available trucks with seats and covers, but without air-con
One guide from Bagan going together
One Chin nature guide and helpers
Simple accommodation near the Mt. Victoria national park: wooden rooms, private bathroom, hot water on request
Meals as per the program. On the trail the guide and helpers will do the cooking
Permit for the enterence
Note the program can be customised, changed to suit your requirement and local situation. We can also arrange hotel in Bagan, and air and/or boat tickets.