Nepal

Nepal has always been in our minds since we started visiting friends there in the 1990's. The country of diversed landscapes and cultures in relatively small region has a lot to offer - from the world's highest ice and snow covered peaks to lowland rain forest, Buddha birth place, Hinduism and other religions, people of different origins and traditions - all mingled in a country surrounded by China and India.



Jan 1999 Nepal trip photos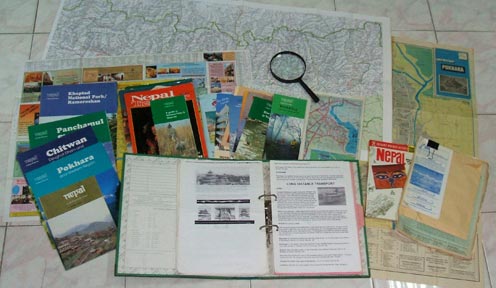 Some old maps and document from the 1999 trip


One day in early September (2007) we stumbled on 3 small dust-covered photo albums and some document in a corner of our office - remains of what we we collected from a trip we made just months before we set up TrekThailand.net. Photos, shot by a cheap auto-focus & zoomless camera, are somewhat worn out. That January 1999 trip was to visit our Nepalese friends and for other business matters. But one thing we did not expect happened - the inspiration to untertake a new project: Trek Thailand.

However we have never operated any activities in Nepal apart from personal trips and friends' matters. Our Bangkok based project team now plans to organize 12 to 20 days long trips to Nepal for small groups of 4 to 14 people around the end of 2008. The trips will take us to out of the beaten path, less visited and less photographed areas of the country.

Geography
Nepal is bounded between Tibet autonomous region of China on the north, and India on the south. The east-west length of the country is roughly 885 km, and north-south breadth varies from 145 to 241 km.

Himalaya region in the north ranges in altitude between 4877 m and 8848 m. It includes 8 of the world's 14 highest peaks which are higher than 8000 meters.

Mountain region in the middle accounts for more than half of the country land.

Terai region, mostly southern lowland of the country, occupies about 17% of the country consisting rain forests and plain areas.

People & religions
More than 18 millions (2000) people of diverse races and cultures populate the country. They speak their languages and dialects that are tradition to their regions.

The Gurungs and Magars live mainly in the west. The Rais, Limbus and Sunuwars live the hillsides and valleys of the east. Sherpas are mostly found in the Himalayan region. The Newars ethnic group inhabits Kathmandu valley and surroundings. These are just few out of many ethnic groups and tribes.

Hinduism is followed by majority of the population, followed by Buddhism in popularity. Muslim is the third most largest group. There are minorities following other religions and beliefs.

Languages
Although there are many local languages and dialets, Nepali is the official appratus of communication. Elglish is well spoken by many young and adult population in cities and towns.

Climate
The northern Himalayan mountain range above 4500 meters is mostly covered by snow for good part of the year. The valleys between the mountains, often as low as 1500 meters, offer warm window from March to May. Night time throughout the year requires warm clothing. Trekking and mountaineering in the region of up to 6500 meters (conditions and requirement vary and permits are required) can be undertaken October to mid-December, and March-April (wild flower season). Snow fall and avalanches could happen in higher elevation during mid December to February.

The middle to lower rain forest national parks region enjoy monsoon rainy season or summer from June to September (19 to 36C), autumn from October to November with excellent views (10 to 28C; nights maybe near zero), winter from December to February (4 to 22C; some nights are freezing), and warm season (spring) from March to May (11 to 31C).

Transport
Most of the good roads are found in southern part (from west to east) connecting to Indian border line. These are linked to the capital Kathmandu, Gorkha and Pokara in the central middle region. From Kathmandu the Arniko highway runs to China border in the north at Kodari. Travel in the other regions by road are very basic, rough and often very difficult or impossible. Domestic flight services fly to several cities and towns. Flights to base stations of the mountaineering regions can be arranged.

Trekking and mountaineering
Permit and use of local licensed guide or operators are necessary.

More information on trekking, mountaineering and travel can be found at:

Ministry of Culture, Tourism & Civil Aviation

Nepal Tourism Board

Nepal Academy of Tourism & Hotel Management

Department of Archaeology

Ministry of Foreign affairs

NepalNews.com

www.nepalitimes.com English-language weekly newspaper published by Himalmedia Private Limited.

www.gorkhapatra.org.np The Rising Nepal - English language news.

www.kantipuronline.com eKantipur.com Newspaper

www.nepalhomepage.com Nepal Homepage: directory, yellow pages, travel, etc.