Nepal
|
Jan 1999 Nepal trip photos 1
|
2
|
3
|
4
|
5
|
6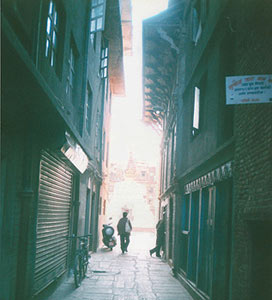 Early morning walk to a bus station
A city sitting on the cross roads of cultures and traditions, Kathmandu is located in a valley in the central part of Nepal, at average elevation of 1336 meters. People of different ethnic groups, languages and trades mix each other in the vibrant city of about one million people (1999).
We arrived in a cool afternoon of early January to stay with our friends. The mostly narrow city roads were shared by people, carts, cows and goats, and cars in an un-told agreement unique to the place that we the strangers needed few days to familarise.
In the morning sounds of hundreds of different rhythms, tones, pithes and meanings filled the streets. They came from temples, birds, roadside stalls selling foods and other stuff, as well as from the homes. Still there were parts of the town at certain times that offered quiet atmospheres in which you could feel alone. But then half an hour later you came back to the same amazing dynamic mixture of differences in the sameness.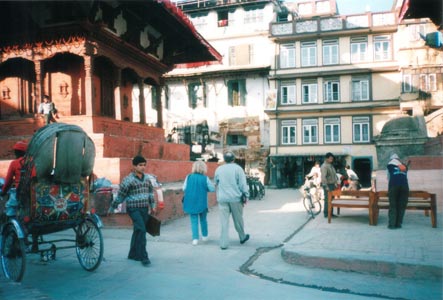 Kathmandu Durbar square
Kathmandu Durbar square is a center of religions, cultures and trades. Housing temples, old Royal Palaces and monuments, shops selling various items including handicrafts, it is an old square set up in 8th century that is now one of the first places to see for tourists.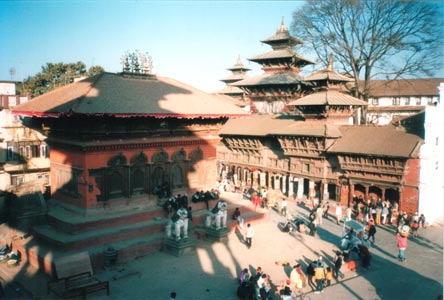 Another view of Kathmandu Durbar square
During clear weather, especially March to may and October and November, you can see the snow capped Himalayan mountains from the city. Kathmandu valley itself contains mountain villages and hill farms growing rice paddy, vegetable and fruits, and raising cows, goats and sheeps and other poultries in small numbers. Fast flowing rivers run down the slopes of these hills. One can pratically walk out of the city to have views of these surrounding beauties. To reach these surrounding villages and towns, however, may require a kind of transport.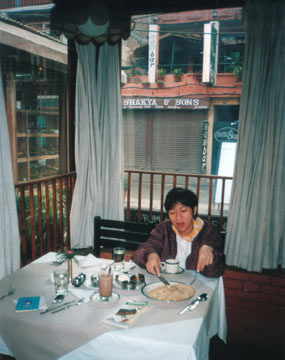 A good delicious meal in a restaurant
There are food for every taste in Kathmandu and other touristic towns. Restaurants of Western and Eastern styles, Chinese, Thai, Nepalese and Indian scatter around the tourist areas of the city. We enjoyed very good food in Kathmandu, Nagarkot and Pokhara.
During our first nights in Kathmandu we walked alot in and outside of the city to explore the places, the corners, small narrow streets, night lifes, shops and companies, as well as to the surrounding towns. We have lost those photos somewhere during the moves from place to place in Thailand. Wherever we went we found that many young people and elderly men spoke English. However we did not see elderly women speaking English except in the tourism and international business circle.
In the evening we bought orange fruits and breads from stalls on the streets. Our friends had cheese at home. In cold season they put cheese on the refrigerator, not inside the fridge since it was not necessary.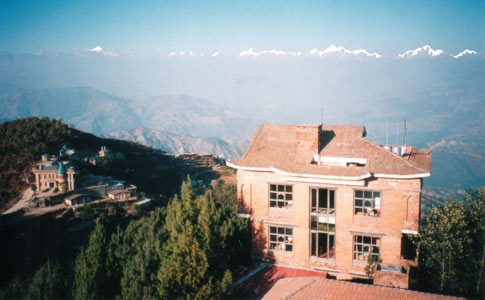 View of snow capped peaks from Nagarkot
After 3 days in the capital we headed for a small hill-top town of Nagarkot (Nagargot) in a crowded public bus. Located 30 km to the north-east of Kathmandu, Nagarkot is on a low hill ridge at nearly 2200 meters above the sea level. Guesthouses with views, small restaurants sitting on the edge of cliff beside a road, pine trees, staircase farms and peoples to make friend are what Nagakot offers to a visitor.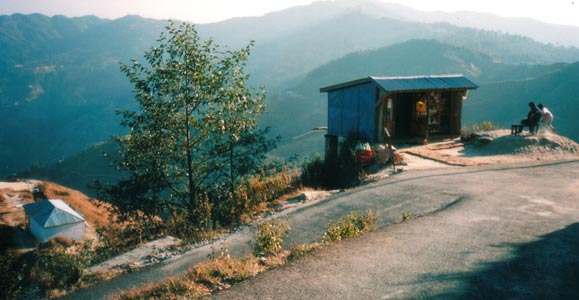 A small road side restaurant in Nagarkot
Such small food shops with a couple of wooden tables pitched just over the slope or cliff are nice encounters in Nagakot. Some offer good food. As in Kathmandu hot water or hot Chinese tea are provided to keep you warm from the cold climate. Here also we found young people speak quite adequate English.
Nepal
|
Jan 1999 Nepal trip photos 1
|
2
|
3
|
4
|
5
|
6