Nepal
|
Jan 1999 Nepal trip photos 1
|
2
|
3
|
4
|
5
|
6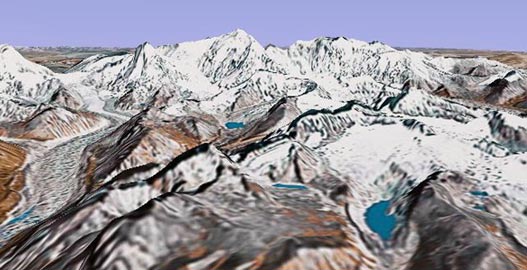 7300 meters peak in Tibet near Nepal border (Google earth image) - from South-West
We did not find the name of this 7300 meters peak inside Tibet near the border. Beautiful icy cold water lakes are found in many Himalayan mountain ranges in northern Nepal and in Tibet, Yunan, as well as in Pakistan, India, Bhutan and Myanmar's Kachin state. Our next expedition to Nepal should include a trip to such a lake between 3500 and 6000 meters elevation.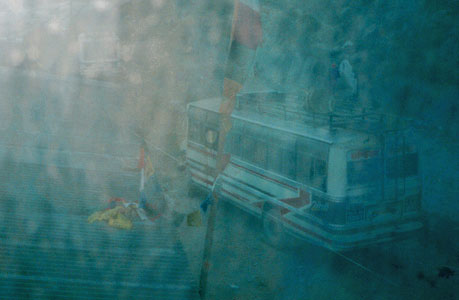 A bus at Kodari border
We spent one night in Kodari in a small two storey guesthouse. The ground floor was the restaurant and kitchen. The room with a door that could not be closed costed only about 2.5 US$ a night (Jan 1999). Also the door left a 9 inch gap at the top and people could see inside. The toilet rooms were outside, on the river bank. In the early morning at about 5 a.m. I woke up to see (through the window pain) lorries and buses preparing for their new day journey in the misty and chilly atmosphere.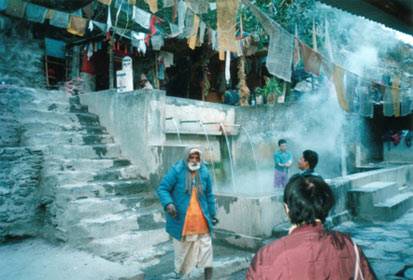 At a hot water spring
On the way back to Kathmandu we stopped at a natural hot water spring.
A construction site (Jan 1999)
Chinese machines working at a hydro project construction site on the bank of Bhote Kosi river, before we reached Barabise town.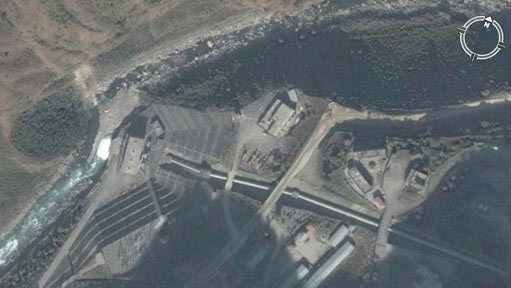 Finished hydro, dam, electric power station? (Google earth image)
Barabise
Barabise as we passed by on the Arniko highway from China border to Kathmandu. At the town we crossed a bridge to come to the western side of Bhote Kosi river. Soon after that point the river flows into Sun Kosi river. In 1999 there was a small hotel in Barabise. Interesting places are a fort, temples, terraced paddy fields, and villages.
Nepal
|
Jan 1999 Nepal trip photos 1
|
2
|
3
|
4
|
5
|
6