Nepal
|
Jan 1999 Nepal trip photos 1
|
2
|
3
|
4
|
5
|
6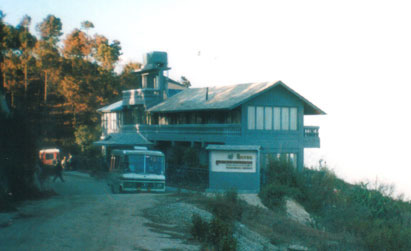 A hotel in Nagarkot
Most hotels and guesthouses in Nagarkot, like the restaurants, were built on a place with views. They were small - less than 30 rooms, and had restaurant offering both Asian and Western foods along with fruits and hot drinks. Alcoholic drinks and beers were available.
A small restaurant in Nagarkot
This tiny nice restaurant was particularly special because of its location offering views of show and ice capped peaks in the north. In January it is quite cold to sit outside. Ones need to order hot food and hot drinks. We did not eat in that shop because we were not able to locate the owner!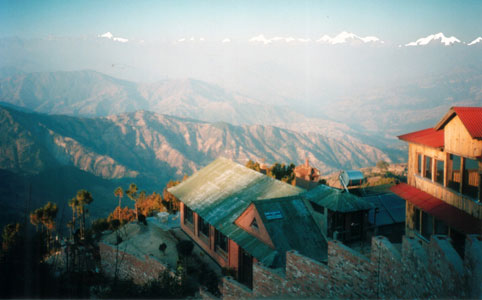 Another view from Nagarkot
This view was taken from our hotel in Nagarkot. We did not have a luck of seeing sun rise and sun set due to misty atmosphere all the time.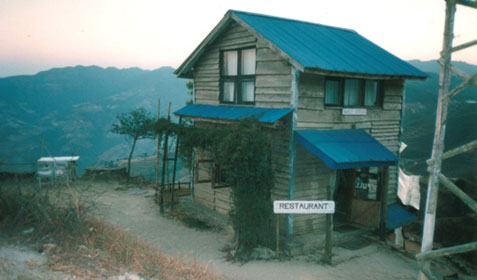 A small restaurant in Nagarkot where we had a dinner
This is where we had a late evening dinner. At first we sat at the outdoor table; later it became very cold and we moved into the little house. Inside the house were nice mugs, cups, spoons, pictures, little wooden tables covered with cotton cloths, and chairs. A little wooden ladder would take you upstairs with views through the beautiful windows.
After two full days in Nagarkot we return to Kathmandu in a shared jeep truck. In the truck were more than 12 people, loads of fruits and vegetable, a goat and several bags full of cheese. After a night stay in the capital for an appointment we moved again. That was for Tibet (China) border at Kodari (Zangmu or Khasa in Tibet).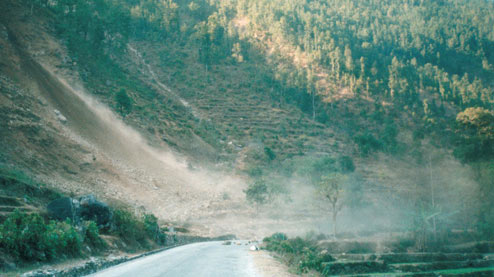 Land slide on Arniko highway road to Kodari, Nepal-Tibet (China) border
The Nepalese border town of Kodari sits on the western bank of Bhote Kosi river at approximately 1670 meters above the sea. On the eastern side of the river is Tibet region of China. The Tibetan town Zangmu or Khasa is located on the slope of the hill.
About 120 km drive from Kathmandu on Arniko highway on the Sun Kosi river and then on Bhote Kosi river was a one we still keep in our memory to this day. The road passed beautiful georges, valleys, stair-case paddy fields, small villages, and cable bridges over the rapids of rivers.
With an old saloon car we took 6 hours to get to Kodari. On the way we encountered a land slide (above picture). There were no good restaurants and rest places on the road. About the midway we crossed Sun Kosi river by bridge at a small town called Barabise where there was a small very basic hotel. At that point we continued on Bhote Kosi - a tributary of Sun Kosi.
Bhote Kosi river flowing down from Nepal-Tibet (China) border
Bhote Kosi river originates in snow capped mountains of Tibet and flows down the valley passing under the border bridge at Kodari. Just downstream of Barabise it joins Sun Kosi river.
Nepal
|
Jan 1999 Nepal trip photos 1
|
2
|
3
|
4
|
5
|
6