Nepal
|
Jan 1999 Nepal trip photos 1
|
2
|
3
|
4
|
5
|
6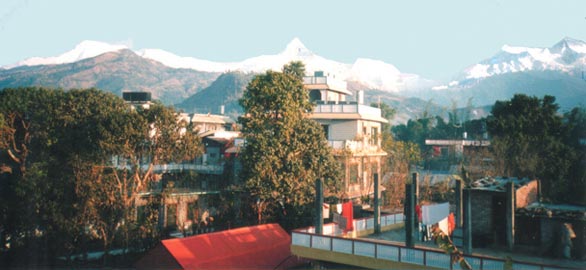 Snowclad peaks to the north of Pokhara
The middle one is Machhapuchhre or fish tail peak (6993 meters). The one at the far left is Annapurna South (7219 meters), and the mountain to its right, not clear in this photo, is Annapurna I (8091 meters). The peak at the far right is Annapurna II (7937 meters) and the peak to its left is Annapurna IV (7535 meters). The mountain to the right of fish tail peak is Annapurna III (7556 meters).
Climbing these peaks are, however, by special permit and open for only experienced climbers. These trips are very expensive. For general outdoor people like us it is possible to climb peaks and mountains that do not require special equipment and techniques - mostly lower than 6500 meters. However it should be noted that just because a peak is lower than 6000 meters does not mean it is easy to ascend. A 4700 meter peak may be open only for experienced climbers because of technical (climbing techniques) requirement. Please contact Nepal Mountaineering Association to know the peaks opened for trekking groups with permission.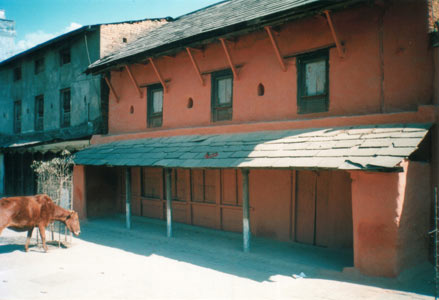 Mud houses in Pokhara old town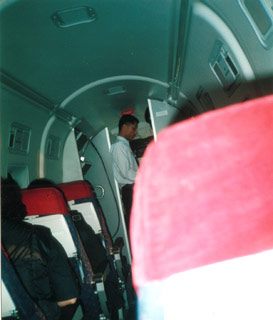 Inside the airplane on the flight from Pokhara to Kathamandu
After two nights in Pokhara we flew back to Kathmandu on a Buddha Air plane. The small plane guarantees window seat for every passenger. Several airlines in Nepal fly to many airports including those in the remote regions close to the popular trekking trails to the mountains and snow peaks. However flights to and from the air strips in remote and mountainous areas can be delayed and cancelled under bad weather. Extra cash money must be prepared for any unexpected delays. More remote air strips are served only by chartered flights.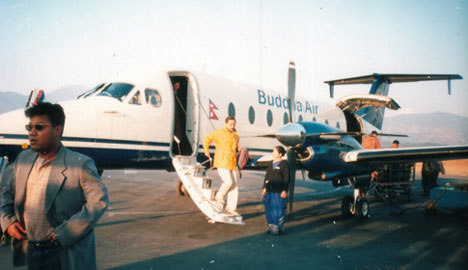 Flight landed at Kathamandu airport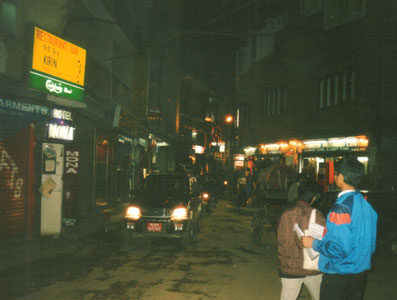 A night in Kathamandu
Kathmandu night life is confined to some pockets of the city areas. However there are casinos, night markets, restaurants and drink shops, bars, Internet cafes and games rooms available to spend your night away.
(Written 10 Sep 2007 using below photos)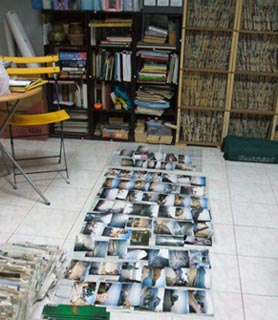 Nepal
|
Jan 1999 Nepal trip photos 1
|
2
|
3
|
4
|
5
|
6