Nepal
|
Jan 1999 Nepal trip photos 1
|
2
|
3
|
4
|
5
|
6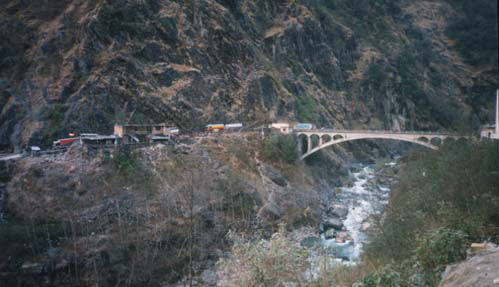 Nepal-China border bridge over Bhote Kosi river in the valley
The left side (western bank) of the river is Kodari - Nepalese town. On the other side is a Chinese border market and up the mountains you could reach to Zangmu - a stone houses built on the high slope of the mountain.
This is one of major Nepal-China border trading posts. Household items such as vacuum flasks (thermos) and other kitchen and eating utensils, cloths, electrical appliances; machines and equipment; construction materials, food stuff and so on came in from China.
Export from Nepal to Tibet were found to consist of agricultural products, textile and handicrafts.
However Nepalese traders we talked to complained about the difficulties of road conditions to the border. Also because of lack of banking system at the border the payment were made in traditional methods using cash or bartering. Most of the trades were made between small scale traders except those under government projects and between large private companies.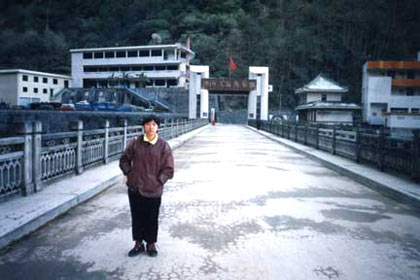 Nepal-China border bridge over Bhote Kosi river in the valley
This is another picture taken on Nepal-Tibet border bridge against the Tibet (China) side entrance sign. Immediately after the Chinese check post on the left side was Zhangmu Hotel. Turn right once you enter the China side and you would get into a small border market selling various products from China.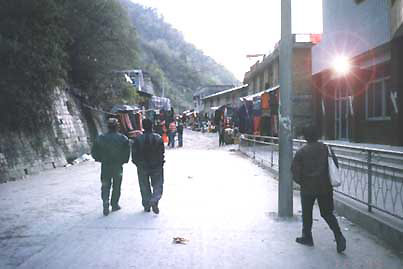 China-Tibet border market at Zangmu
Small border market inside Tibet (China) opposite Nepal's Kodari town on the other side of Bhote Kosi river, a tributary of Sun Kosi river. From here, the border bridge at 1660 meters above sea level, you need to drive zip-zap up to over 2000 meters above sea level to get to the Tibet town of Zhangmu or Khasa.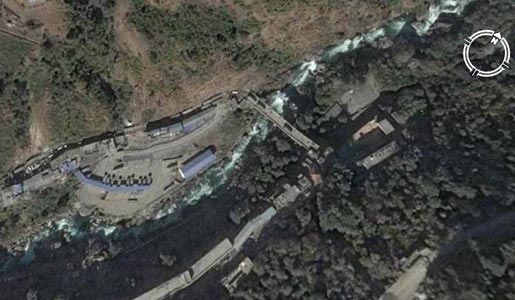 Google Earth image of Nepal-China border
This image shows Kodari Nepalese town on the west of river, the border bridge, and the Chinese border market.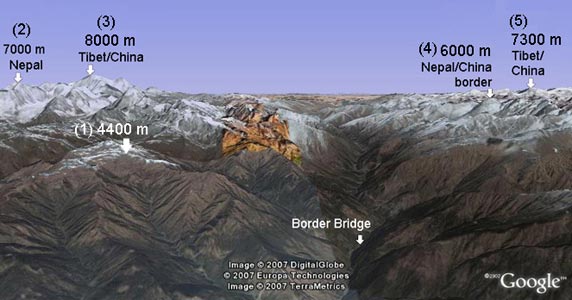 Nepal-Tibet border mountains (Google Earth image)
1
= Kyerpa Danda, 4400 m in Nepal.
2
= Leonpo Gang (big White Peak), 7000 m in Nepal.
3
= Xixabangma Feng (Shisha Pangma), 8000 m in Tibet
Snow covered 4400 meter high Kyerpa Danda mountain and other nearby peaks can be reached by trekking trails from Kodari passing houses and small villages. Guides and permit are required. It is necessary to overnight in farm huts or do camping in tents.
Cold water lake near the peak of 4400 meter Kyerpa Danda mountain. The trail starting from the road to the south of Kodari will take you through small farms, mountain brooks, and finally over the treeless rocks and snows to the peak. For average outdoor person it could take three days to reach the lake in fairly good weather. Appropriate gear and clothings, food and local trail reader guides are the must.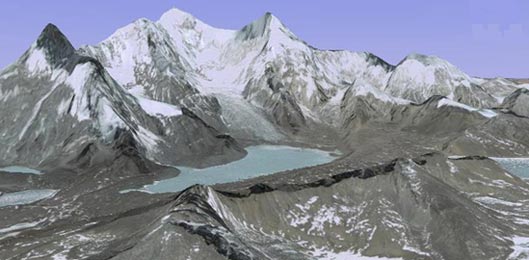 Xixabangma Feng (Shisha Pangma), 8000 m in Tibet, from South-East (Google Earth)
Nepal
|
Jan 1999 Nepal trip photos 1
|
2
|
3
|
4
|
5
|
6