Tours - Nature trek Kachin state

Hike to Mt. Phongkanrazi (3630 meters), Putao, Kachin state, northern Myanmar (Burma)
(From October to March)

Kachin state in the far north of Myanmar (Burma) offers high snow topped mountain peaks, fast flowing mountain streams, rapids and waterfalls; plains and slopes of paddy plantations, vegetable and fruit farms and open fields, mountain lakes, as well as many tribal races. The state is also the water shed of Ayeyarwaddy and Chindwin - two main rivers of the country.

The trek to Mt. Phong Kan Razi is an introduction to mountaineering in this hill land of Kachin, Jimphaw, Lisu, Rawan, Khamti Shan, and other hilltribe people. The difficulty level is easy to moderate apart from the fact that you have to spend many nights in the villages and at camps, and cold weather. We will arrange jeep or truck transportation between Putao town and the first villages in the begining and end of the trip. Village people will be helpers, porters, trail readers and cooks for the trip.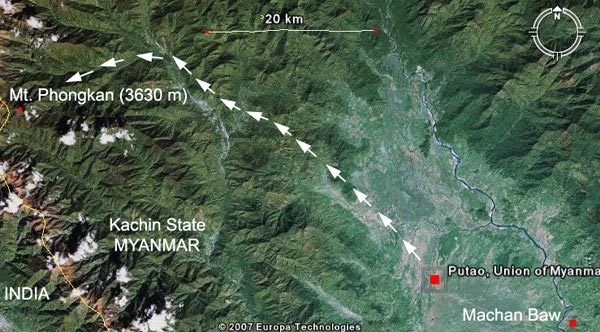 Putao to Mt. Phongkan trail (Google Earth Image)

Putao to the 3630 meters peak of Mt. Phongkanrazi range is roughly 98 km. Jeep or truck shall be used for the first 20 km depending on the road and weather situation.

Approximate trek plan (not final program)
Day 1 (Tuesday): Yangon to Putao by Air Bagan flight. Sightseeing around the town. Houses, market, shops, tribal people, Christian church and Buddhist monastery. Stay in Khakaborazi Guesthouse II.
Day 2 Visit of nearby villages, and adjust yourself with the local weather, local food, and local culture, make friends with tribal village guides who will be walking together.
Day 3 to Day 12 trek to Mt. Phongkan peak and back to Putao. Along the way we will pass villages: Lower Shan Kaung, Upper Shan Kaung, War San Dan, Ziyar Dan of Lisu, Rawan tribes. We will stay at village houses, walk in water, walk over the suspension bridges. We will spend 3 nights camping in the mountains before and after reaching the 3630 meters peak.
Day 13 Putao, rest day or a trip to Machan Baw by truck and walk
Day 14 Putao
Day 15 (Tuesday) Take air Bagan flight to Yangon.
If you have more days to spend there are many places to visit. Machan Baw village on the eastern bank of Mali Kha river, Mula Shedi village to the south of Putao with beautiful suspension bridge over Mula stream, and many other villages.

It is possible that you continue to Myitkyina (capital town of Kachin state) from where you can visit the confluence point of Ayeyarwaddy: meeting of Malikha (Mali Kha) and Makha (May Kha) river, and nearby villages. From Myitkyina you have a choice to take the rough car road or by small river boat down to a small town Bamaw (Bhamaw). Bamaw to Mandalay can be done by double decker boat operated by Inland Water Transport. The boat does not run everyday though.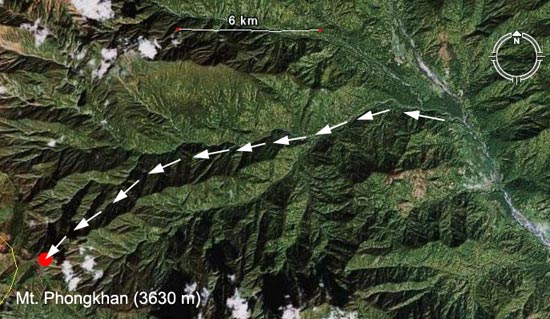 Last two days trek to the 3630 meter peak (Google Earth Image)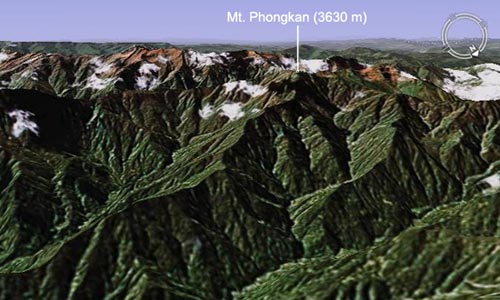 Final trail to Mt. Phongkan Razi from North-East (Google Earth Image)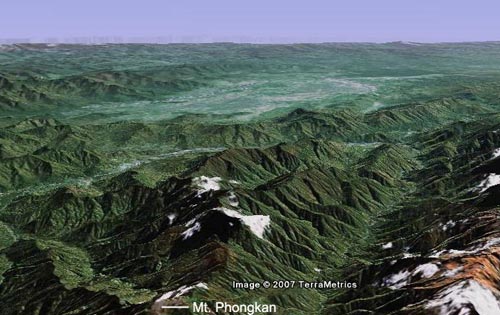 Viw of Putao plain from Mt. Phongkanrazi (Google Earth Image)



Please send email to us if you want to join the trip, for details, things to bring and pricing and our supply details. Final plan and confirmation should be 2 months before the trip, at that time we will request your passport details for application of travel permit. You will at the same time apply for Myanmar visa.



Private groups should contact us more than two months ahead of your intended travel date to custom design the trip and arrange the necessary things.

We will provide
Travel permits
Flight tickets to and from Putao
Guesthouse stay in Putao
Automobile transport and sightseeing in Putao
Tour leader, and Villagers as guide, porters and helpers
Food, drinking water, hot drink
Tents, sleeping bags, matress, mosquito nets and blankets, ropework, night camping equipment; pots, pans, cutlery, etc. for cooking and eating, first aid kit, etc.
Note the program can be customised, changed to suit your requirement and local situation. We can also arrange hotel in Yangon, Myitkyina, and boat tickets.

As examples, other possible trips you can do from Putao are:
Walking (hiking) to stay over night in the tribal villages - both around and far from Putao in a circuit
Walking (hiking) to the last village in the north - long distance walk needing nearly one month, lots of provisions and many porters
Hiking to villages, home stay, and excursions into the jungle along hunters' trails
Look at the photos of the hike to Phangran Razi, tours around Putao, & stop over in Myitkyina (8 - 20 Dec 2009)