Trip reports - Bagan, Mt. Popa, Inle lake, Kalaw, Train, Pakokku, Mindat trip
Bagan, Nyaung Oo, Mt. Popa, Inle lake, Kalaw, Train, Pakokku, Mindat (21 Jan - 07 Feb 2011)
Bagan & Mt. Popa | Shan state | Ayeyarwaddy to Chin hills | Mindat & Mt. Victoria | Pakokku, Phakhan Gyi & Bagan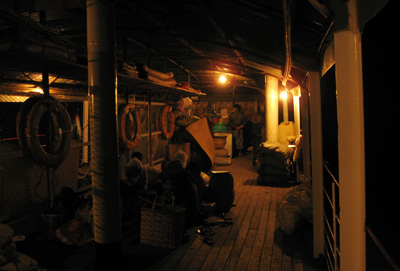 (IWT) Inland Water Transport's double decker boat at Nyaung Oo jetty near Bagan, on the Ayeyarwaddy river bank.. early in the morning
IWT boats, mostly double deckers, travel up and down between Yangon or Pyay and Mandalay - the lower part of the Ayeyarwaddy river. Between Mandalay and Myitkyina, the upper section of the river, a couple of boats cruise go upstream and down. There is no reliable time table so one needs to check with the local IWT office to know availability of the next boat. If you miss the IWT boats there is regular private, smaller, boat running between Bagan and Pakokku.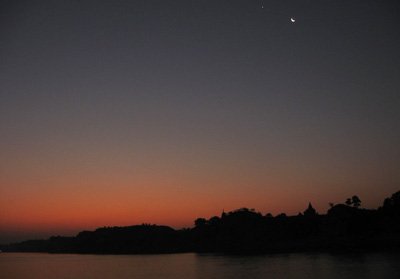 Early morning srescent moon over the ancient temples in the northern part of Nyaung U..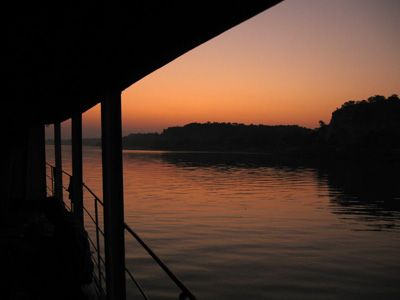 The boat leaves Nyaung Oo jetty just before the sunrise.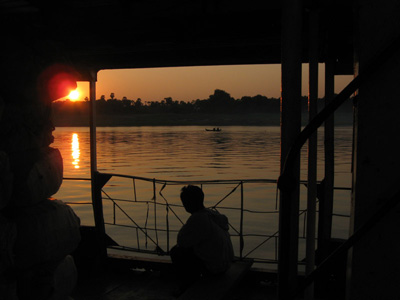 Sunrise view from the boat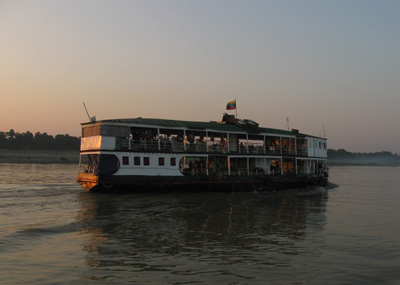 A double decker boat cruising downstream the Ayeyarwaddy river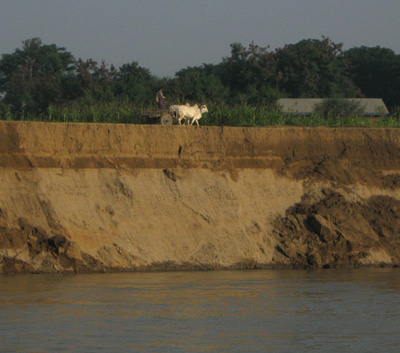 A bullock cart on the sand bank near Pakokku
It takes about 3 hours upstream to Pakokku from Nyaung U. A river crossing bridge is currently under construction at Pakokku.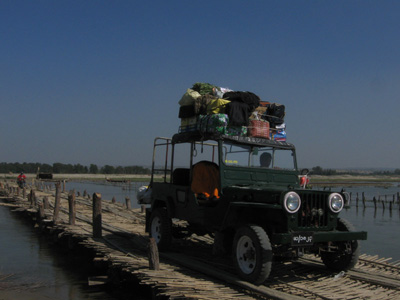 Our jeep going on a temporary bridge in the flooded land, on the way from Pakokku to Mindat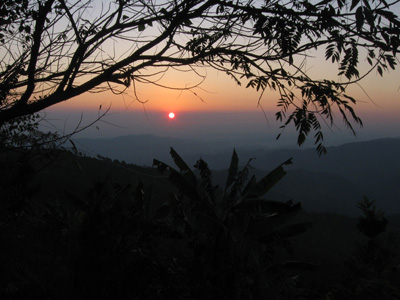 Sunrise view from Mindat
Mindat is a town in southern Chin state, at average elevation of 4850 ft above the sea level. In dry season (Nov to April) the passenger jeeps would take about 7 hours to travel between Pakokku and Mindat.



Bagan & Mt. Popa | Shan state | Ayeyarwaddy to Chin hills | Mindat & Mt. Victoria | Pakokku, Phakhan Gyi & Bagan