It is located in Mingin township of Sagaing division, covering an area of 620.35 square miles. Established as a wildlife sanctuary in 1941 and opened as a national park in 1984.

Access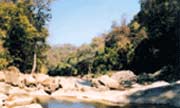 Yangon to Alungdaw Kathapa by car is 981 miles (1570 km). Yangon to Mandalay is 400 miles by air or land, and Mandalay to Alungdaw Kathapa (via Sagaing and Monywa) is 148 miles by car. You have to cross the Chindwin river.

Objectives
To conserve Biodiversity including flora and fauna. To study and research on ecosystem of plants and animals. To mange forest resources, including biodiversity by establishing as a national park in accordance with the sustainable production policy of natural resources To promote ecotourism.

Forest / vegetation types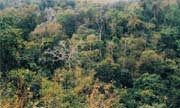 Plants include moist upper mixed feciduous forests, dry upper mixed deciduous forests, lower mixed deciduous forests, indaing forests, pine forests.

Wildlife
Elephant, tiger, leopard, gaur, banteng, sambur, barking deer, jungle goat, mountain goat, bear, wild boar, jungle cat and many kinds of birds inhabit Alungdaw Kathapa.

Conservation, development and research programmes
Conservation of natural forests. Conservation of wildlife including tiger, Carrying out research works and conservation of tiher generations with the assistance of international organizations. Conservation of all-weather road from Kapaing village to Bayana camp. Conducting enviromental education programmes. Promoting ecotourism.

Opportunities for study and recreation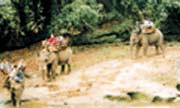 Worship at the place where Alungdaw Shinmahar Kathpa has been enshrined. Visiting and conducting research in the least disturbed forest types. Conducting research on tiger conservation and management. Observing intand avifauna species. Study of the growing condition of Kndaing forest and Pine forest.

Accommodation facilities
There are guesthouses, log cabins and camp sites in the park.
Location map of parks
Khakaborazi national park
Indawgyi lake wildlife sanctuary
Chatthin wildlife sanctuary
Alaungdaw Kathapa national park
Maymyo botanical garden
Nat Ma Taung (Mt Victoria) national park
Popa mountain park
Inle lake wetland sanctuary
Shwesettaw wildlife sanctuary
Sein Ye forest camp
Moneyingyi wetland wildlife sanctuary
Myaing Hay Wun elephant camp
Hlawaga park
Yangon zoological garden
Meinmahla Kyun (island) wildlife sanctuary