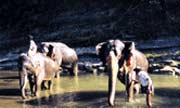 Myaing Hay Wun elephant ground is located in Taikkyi township of Yangon division. It covers 10 acres area and is established in 1986.

Access
Yangon to Pa-lon, 60 miles (96 km) by car, Pa-lon to Kwan Ti Myaung on unmetalled road 8 miles (13 km), and Kwan Ti Myaung to Myaing Hay Wun, forest road 4.5 miles (7 km).

Objectives
To develop and promote from Elephant Nursing Camp to Myaing Hay Wun Elephant Research Camp.

Wildlife
Elephant, Gaur, Banteng, Barking deer. Wild boar, Hear Wild cat, Green Peafowl, Ruddy sheld duck, Hill myna, Blossom-headed parajeet, pheasant, Red jungle fowl, Quail, Dove, Duck, lesser tree duck, Butterflies, Moths, Snaker, Monitar lizard, Groung lizard, Grass lizard and Chameleon are present.

Conservation, development and research programmes
Research on Elephant Artificial Inseminaion (EAI). Increasing elephant population by Elephant Artificial Insemination (EAI) method. Study reporduction of female elephant by feeding food additives.

Opportunities for study and recreation
Study of fishes and aquatic creatures in La-har-ma-nge fishpond and recreation by fishing. Viewing of pyinkadoe plantation situated near Sinte and listening to the sound of birds. Hiking and mountaineering in the forest. Observing training of domestic elephants. Elephants riding around the camp. Study of the capture of wild elephants.
Location map of parks
Khakaborazi national park
Indawgyi lake wildlife sanctuary
Chatthin wildlife sanctuary
Alaungdaw Kathapa national park
Maymyo botanical garden
Nat Ma Taung (Mt Victoria) national park
Popa mountain park
Inle lake wetland sanctuary
Shwesettaw wildlife sanctuary
Sein Ye forest camp
Moneyingyi wetland wildlife sanctuary
Myaing Hay Wun elephant camp
Hlawaga park
Yangon zoological garden
Meinmahla Kyun (island) wildlife sanctuary